We are happy and excited to share with you this inspiring video ADVENTURE full of fascinating insights by the GREATEST EXPLORER of our time – Mike Horn. He lives his passion by being who he really is – the Explorer who lives each and every day of his life to its fullest. In fact, it´s exactly what he tells us to do too. And he has a reason to do it. He has a point about it. A HUGE ONE. (By the way – this is Michel´s and my absolutely favorite speech we have seen so far – we are blown away by the message of this great man.)
Among many of his unique adventures Mike Horn has completed solo journey around the equator without motorized transport. He has swum all the length of Amazon river from its beginning till ocean. He solo circumnavigated the Arctic Circle during 2 years and 3 months. In 2006 he and Norwegian explorer Børge Ousland were the first men to travel without dog and motorized transport to the North Pole during the winter, that is – during permanent darkness.
Watch the video and you will be inspired to live fuller and wiser. You will be provoked to think. You will be entertained with wonderful stories about some of his amazing journeys. You will have a chance to think about the limits or the limitlessness of human nature. You will learn about the power of lessons that the great master – Nature can teach.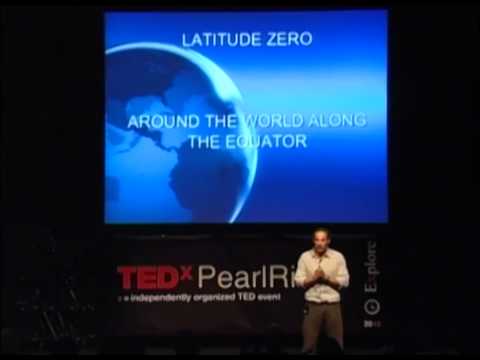 Mike Horn has an incredible project called Pangaea – it is the journey around the world that lasts 4 years and consists of 12 expeditions where young people of age 15 to 20 years can take part. It is something that will change their future forever. And it will change the future of our planet too. They explore the natural world, learn about its challenges, find possible solutions, and ACT to help change it for the better. Watch this video to learn more about Pangaea. Oh, and if you know somebody who would be in that particular age group and interested in such adventure – do encourage that young person to apply for this life changing expedition.